Edmonton Oil Kings
Proud to be at Salisbury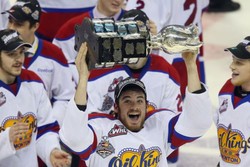 Since September of 2007, Salisbury High School has been the proud host school for the Edmonton Oil Kings.  Each year, 8-12 Oil Kings players attend classes in the morning to continue their studies while they play in the Western Hockey League.  These top athletes are supported by the Educational Advisor, Sharon Sereda and the staff of Salisbury High School. Sharon can be reached at sharon.sereda@eips.ca.
A Few Words from the Team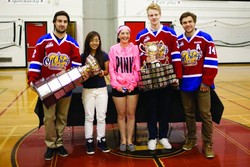 The Oil Kings have now been attending Salisbury as their franchise school since 2007. Throughout this period, players have enjoyed great success in their academic classes while steadily increasing their ability level on the ice and in the League standings.

The following are the players who have been honoured with the team Scholastic Player of the Year Award, a western Hockey League distinction which honours classroom success and contribution to the team:


2007/2008 Shayne Neigum
2008/2009 Rhett Rachinski
2009/2010 Mark Pysyk
2010/2011 Ryan Dech
2012/2013 Cole Benson
2013/2014 Dysin Mayo

During our tenure since the return to modern day participation in The Western Hockey League, a total of 12 players have been drafted to the National Hockey League in the entry draft held each June.


Tristan Jarry - Pittsburg Penguins - 2nd round
Mitchell Moroz - Edmonton Oilers - 2nd round
Curtis Lazar - Ottawa Senators - 1st round
Griffin Reinhart - New York Islanders - 1st round
Cody Corbett - New York Islanders
Henrik Samuelsson - Phoenix Coyotes - 1st round
Mark Pysyk Buffalo Sabres 1st round 23rd overall
Keegan Lowe Carolina Hurricanes 3rd round
Travis Ewanyk Edmonton Oilers 3rd round
Michael St. Croix New York Rangers 4th round
Laurent Brossoit Calgary Flames 6th round
Thomas Vincour - Dallas Stars - 5th round

A number of our graduates who benefited from their Salisbury experience and have continued their education through classes at either the University Alberta or Athabasca University while continuing to play at the major junior level. This is certainly a credit to the foundation they have received.

Congratulation to the following, former Salisbury students:

Rhett Rachinski University of Alberta
Ryan Dech Athabasca University
Travis Ewanyk Athabasca University
Davis Stephans Athabasca University