Yoga
Yoga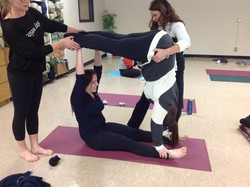 The High School Yoga Program offers students the opportunity to study yoga as a subject in its own right. It is designed to introduce students, safely, to the basic postures (asanas), breathing techniques (pranayama), and relaxation methods of yoga. It will also introduce students to the historical roots of yoga, and give them an understanding of anatomy and physiology as it applies to this discipline.
 Students will develop an enhanced appreciation of their own body, and an acceptance of its uniqueness. They will have improved spinal mobility, increased flexibility of movement, increased strength, and improved posture and sitting habits. Their focus and concentration will improve, as will their functional breathing. They will learn to be more in touch with their own needs, and those of others.
 Students will learn to identify the precursors of stress and release them more easily. They will learn how to relax at will. They will experience the health benefits of yoga, and learn coping skills that will enable them to get more out of everyday life.
What the students say…
"One of the greatest challenges I have had as a teenager is stress and yoga has given me many tools that I use to relax and calm myself.  I have had many challenging days in high school but it always gets better going to Yoga class and leaving the world behind for a while just to focus on myself and my wellbeing."
"Yoga has helped me deal with life in an appropriate, respectable way – honouring myself."
"The realization that we do not necessarily need to find ourselves or find where we fit in, but that we create who we are has come through my yoga practice."